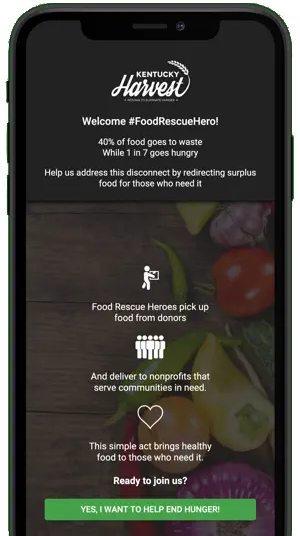 40% of food goes to waste while 1 in 7 households go hungry. Become a #FoodRescueHero and be part of the solution.
In as little as 45 minutes of your time, you can rescue perfectly good food from going to waste and deliver it to nonprofits who serve people experiencing food insecurity.
Set your preferences for when you want to do food rescues.
Get alerts when rescues become available. Choose rescues that fit your schedule. Rescue everyday, every week or just give it a try.
#FoodRescueHeroes get information on where to pick up the food and where to drop it off — we'll guide you every step of the way.
Because you'll drop off directly to organizations that distribute food, you can see firsthand the impact you are making on hunger.
Take a selfie with your rescue and share on social media to spread the word about Kentucky Harvest and inspire your friends to be food rescue heroes!
Download the Kentucky Harvest App
Additional Volunteer Needs
Individually:
Food Rescue Hero – Download the Kentucky Harvest app to begin delivering surplus foods to nearby organizations serving communities burdened by hunger.
Kentucky Harvest Food Rescue Ambassador – Are you eager to help spread the word about our mission? We attend a variety of community events throughout the year and often need assistance distributing promotional materials or with hands-on setup.
Administrative Support – We occasionally need assistance in our office with tasks such as stuffing swag bags or stamping envelopes.  Email 

[email protected]

 to inquire about current opportunities. 
As a Group:
Food Rescue Takeover – Gather a group of friends or coworkers and see how many food rescues you can complete in one day! With food rescues coordinated seven days a week across six counties, there are always opportunities to pitch in. Download the Kentucky Harvest Food Rescue app to begin.
Third Party Events – Kentucky Harvest would love to be the recipient of funds raised at your special event! Whether it's a birthday party where gifts are swapped for donations, a golf outing, a food-related events or something new, we would love to be a part of your special day to let your guests know they are helping the community through food rescue and recovery!
What is The Bill Emerson Good Samaritan Food Donation Act?
An act to encourage the donation of food and grocery products to nonprofit organizations for distribution to needy individuals by giving the Model Good Samaritan Food Donation Act the full force and effect of law.
Support Us While You Shop

Did you Know? You can donate to Kentucky Harvest each time you shop at Kroger? Click Here and choose Kentucky Harvest as your charity! You can shop and help us rescue and deliver food to feed others at the same time! Thank you for your consideration!